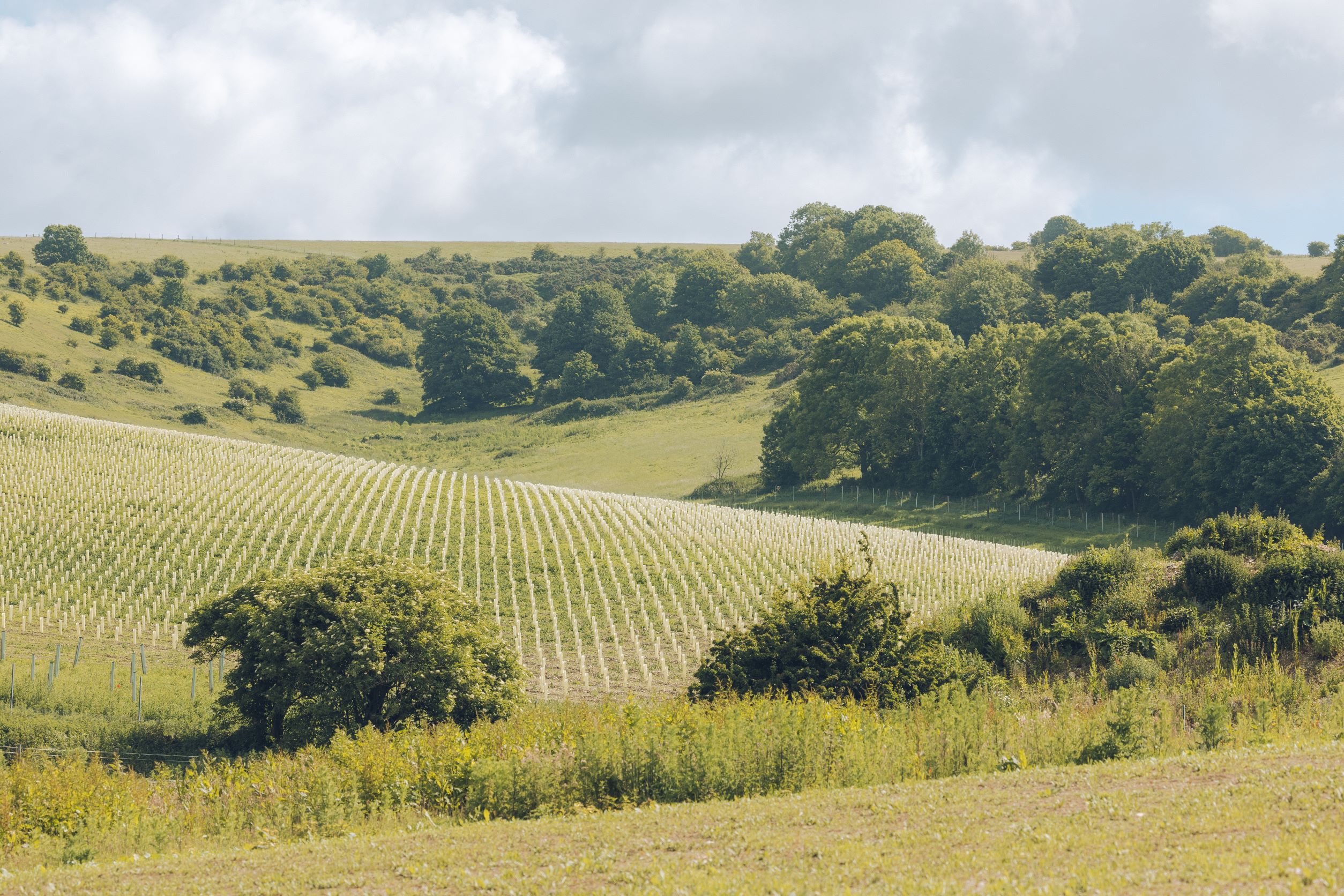 The Sussex Wine Story
Sussex Modern Stories | 6 minutes read
Mavericks, dreamers and visionaries unite. Twenty years ago, it might not have been a notable wine region, but by then, the Sussex wine story had already begun. Now Sussex is home to some of the largest and most innovative vineyards and wineries in the UK.
A guide to Sussex wine 
England has 897 vineyards with 140 in Sussex alone – the largest concentration of vineyards in any county. Though we make some exceptional still wines, our marginal climate is thought to be best suited for sparkling. The varieties that thrive here include the three classic 'Champagne' varieties – Pinot Noir, Pinot Meunier and Chardonnay. These now comprise the majority of vines across Sussex, and together, boast the perfect balance of crisp acidity and complex flavours needed to make great fizz.
With erratic summers and frequent rain, our temperate climate can make growing grapes challenging, but this is mitigated by an average of 1,400 hours of sunshine annually and a long, steady growing season.
The same chalky soil of which Champagne is so proud is also key to Sussex's success – the two regions are connected by a huge bedrock of chalk across the English Channel. Many believe that this imparts a distinctive character into our wines and is part of what makes Sussex so exceptional. 
How many vineyards are in Sussex?
Sussex currently has 140 vineyards, though winemaking is a rapidly growing industry in Sussex and more and more estates are being planted each year.
The history of winemaking in Sussex
There's evidence to suggest that wine has been made here since the Romans and Iron Age tribes first brought vines to Sussex 2,000 years ago. The Domesday Book (1085-6) records vineyards in over forty locations across Britain, planted by monasteries and nobility.
Sussex vineyards and producers 
As the number of vineyards in Sussex keeps growing, the diversity does too. From wild winemakers ageing juice in ancient clay pots to those making distinguished sparklers, producers across Sussex share a common goal: to create incredible, inspiring wines on our land.
The oldest vineyard in Sussex
The new era of winemaking in Sussex began in the early 1970s, when Bolney Wine Estate in West Sussex became one of the first commercial vineyards in Britain. Bolney was followed shortly after by Breaky Bottom near Lewes, where pioneer Peter Hall planted his first vines in 1974, spotting a potential that few had seen before. Twenty years on, Nyetimber first made the leap into sparkling wine production in Sussex closely followed by Ridgeview who have now been producing their world-class wines here for over 25 years.
The largest
With 350 acres under vine, Rathfinny holds the title of the largest vineyard in Sussex, capable of producing over a million bottles of sparkling wine annually. 
The rebels
Over in Rye, English wine renegades Tillingham make a range of low intervention wines in their biodynamic winery. Just four miles away is Oxney Estate who create award-winning organic wines on their 35 acre site.
Sussex grape varieties 
From the 1970s, aromatic German varieties were being grown in England for still winemaking but it wasn't until the 1990s that the first vines were planted exclusively for traditional method fizz. Many still varieties are also grown in Sussex, including Pinot Gris, Riesling and Bacchus. 
Red wine in Sussex 
Though sparkling accounts for 72% of the total wine production, we also have a smart line in reds. Bolney's sparkling Dornfelder, Tillingham's fresh Regent and Artelium's barrel-aged Pinot Noir show the breadth and potential of red wine in Sussex.
Sussex Sparkling and Champagne
To understand the difference between Sussex Sparkling and Champagne, it's important to look at the similarities. As with most of the world's premium sparkling wines, they're both made using the traditional method – where a still or 'base' wine is created before additional yeast and sugar are added for a secondary ferment. Placed under a crown cap, the yeast ferments the sugar into alcohol. This releases carbon dioxide which is trapped in the bottle creating the characteristic bubbles. The wine then ages on the yeast (known as 'lees') which adds biscuity notes and textural richness. The lees are then removed through a process known as disgorging during which 'dosage', a blend of sugar and wine, is added to improve the overall balance before the wine receives its cork. 
In the past decade, countless blind tastings have seen Sussex Sparkling winning over Champagne. Though the two certainly share similarities, our slightly cooler climate creates higher acid levels which in turn accentuate the flavours in the wine, often giving us the edge.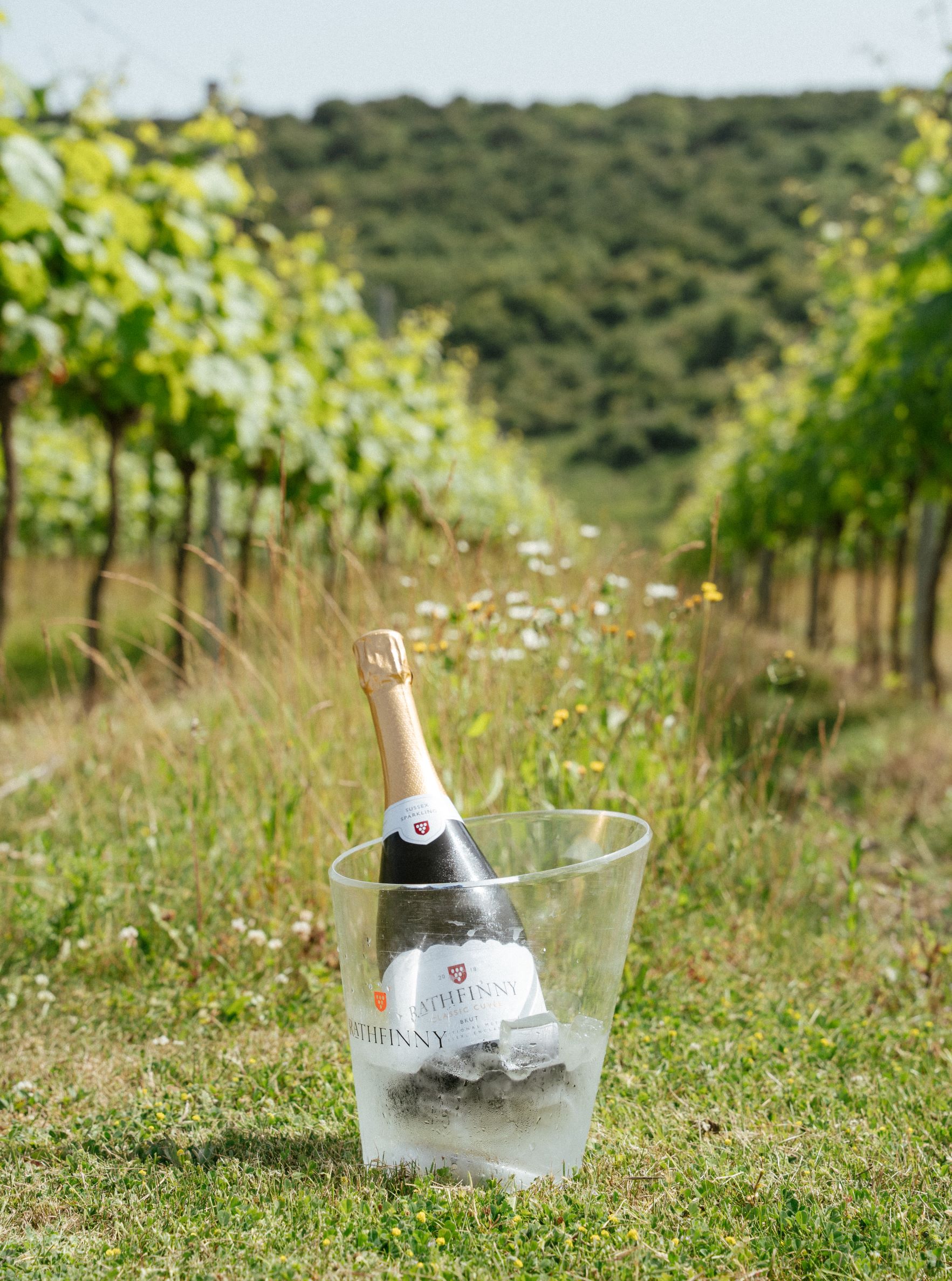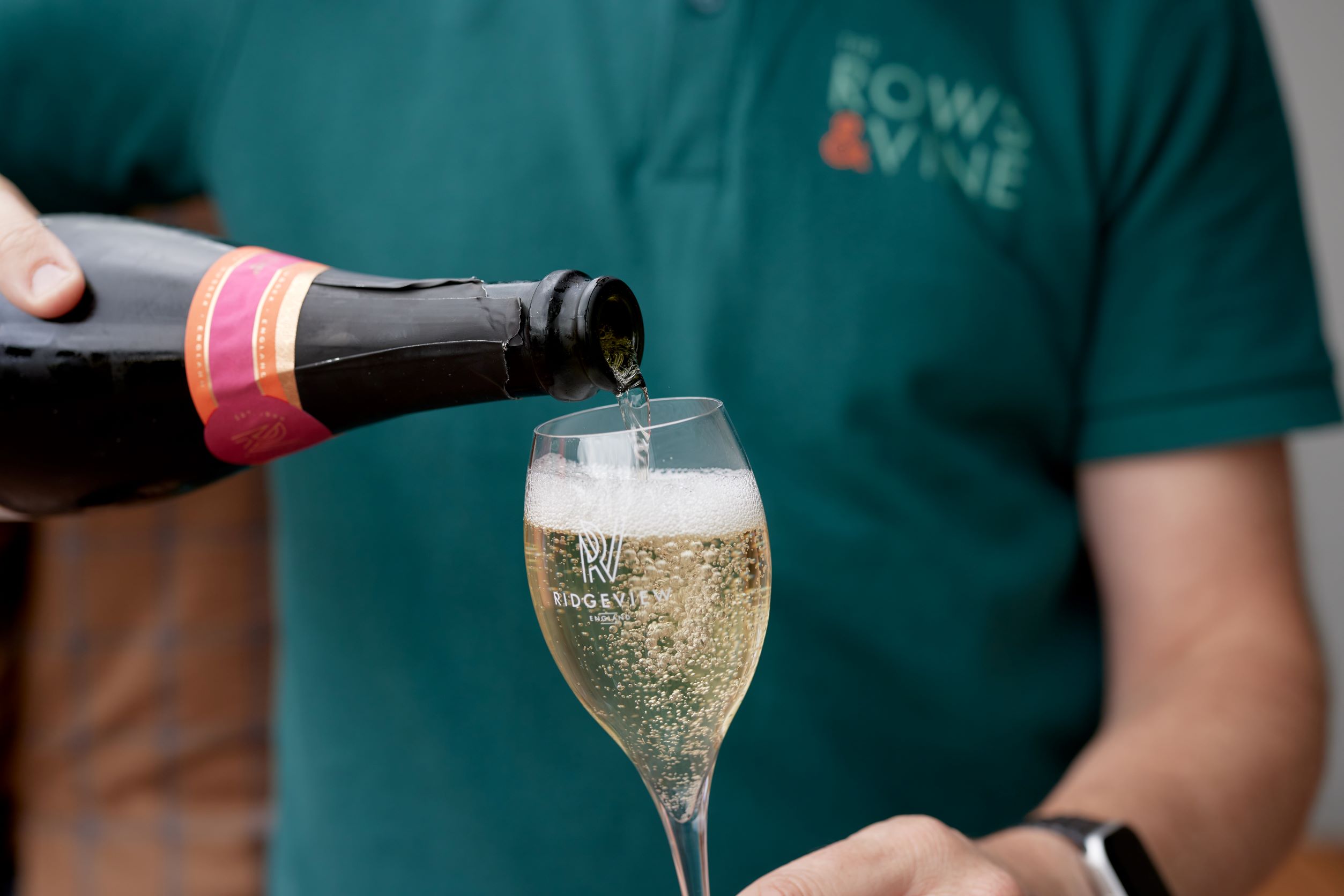 What's a PDO?
Joining Bordeaux, Stilton, Parma Ham and many others, in 2022, Sussex Wine was granted a PDO (Protected Designation of Origin). A PDO recognises drinks and foods which have been produced in a given geographical area using particular methods to ensure consistent quality. Propelled by Rathfinny's Mark Driver, the PDO is a significant step for English wine and its growing reputation both here and abroad.
The best Sussex sparkling?
Like art and music, wine taste is subjective, so it's impossible to say which producer makes the best Sussex sparkling. The good news is that all wine made in Sussex is subject to stringent tests before release so you're always guaranteed a glass of something special. Generally, a younger Sussex sparkling will be brighter with more prominent fruit on the nose and palate, whereas older sparkling wines acquire toasty, elegant notes.
Celebrated Sussex vintages
Despite being a fledgling industry, Sussex already has a handful of celebrated vintages under its belt. In the past few decades, 'exceptional' years have been getting less exceptional and more frequent with 2014, 2015, 2018, 2020 and 2022 all hailed as standout vintages by winemakers. 
Sussex vineyard tours and tastings 
There are vineyard tours to suit every pocket and palate. As well as more traditional tours, visitors can enjoy live music, theatre and fine dining or altogether muddier experiences helping out during harvest. Anyone can visit, and at most vineyards, there's no need to prebook. Tours generally involve a walk through the vineyard, an overview of how the wines are made and end with a guided tasting. See individual vineyards for details.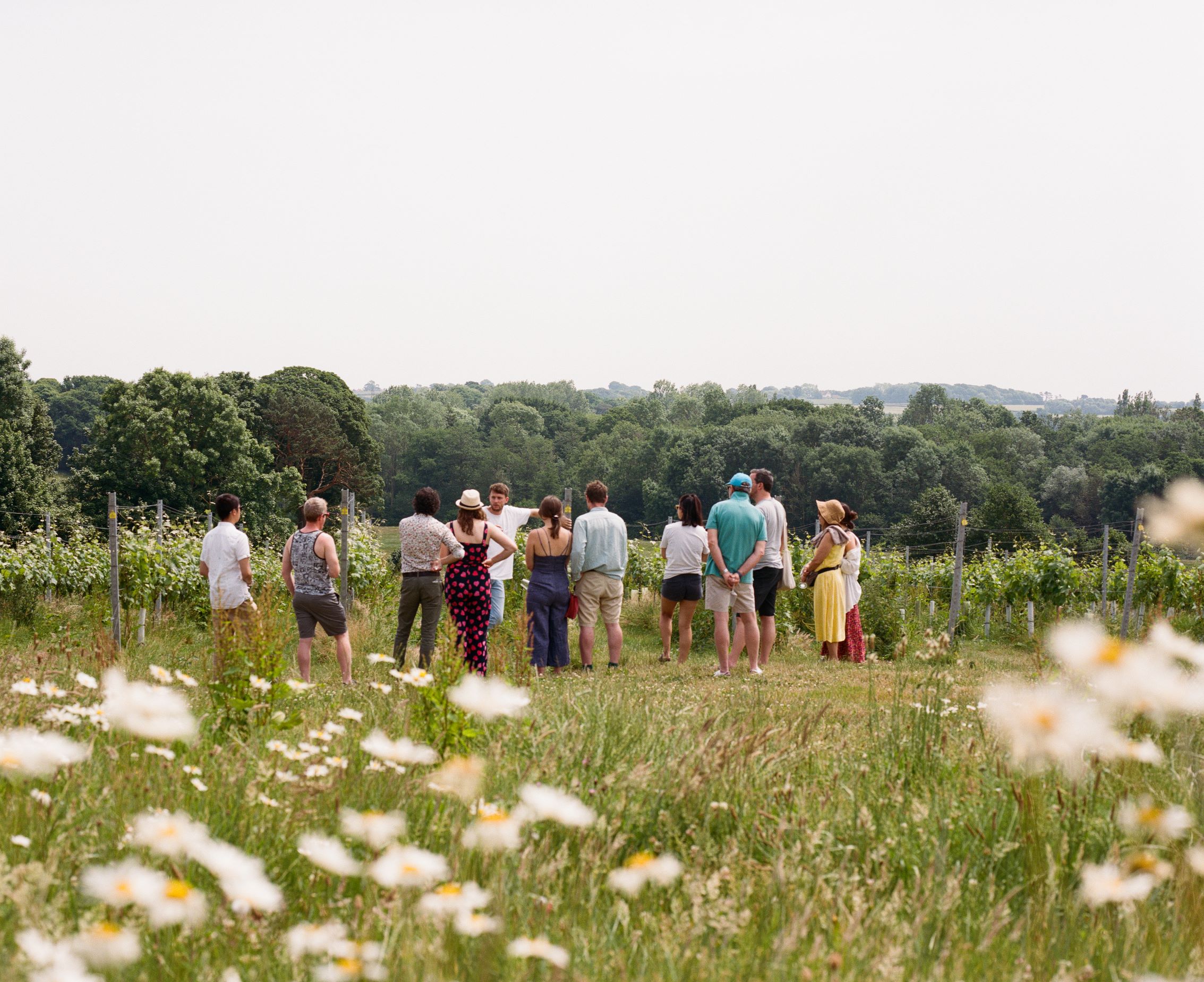 Where to buy Sussex wine
Head direct to vineyard's websites or drop in to taste rare, limited edition cuvées. You'll now find English wine in many supermarkets (some even produce their own label English sparkling wines in partnership with vineyards).
Sussex boasts many excellent independent wine shops who really understand the wine made here. Try Seven Cellars, South Down Cellars, Butlers or Hennings; most host regular tastings. Online, there's an even wider array of English wine specialists: The English Vine, Hawkins Fine Wines, The English Wine Collection and Emerging Vines all offer a selection of carefully curated wines made in Sussex and beyond.
Ready to visit a vineyard? See out guide to Sussex vineyards waiting to welcome you for a tour, tasting, meal or more.
Words: Galia Pike