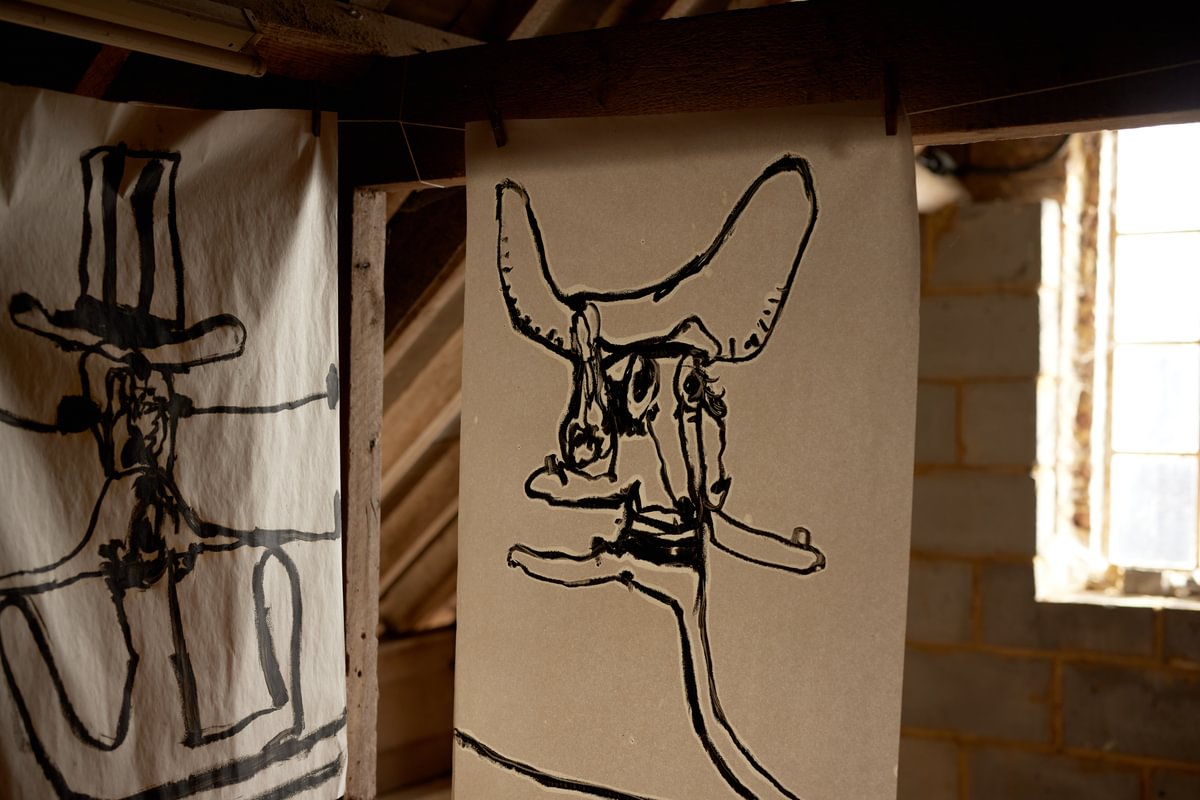 "We love chatting to people who had no idea English wine even existed!"
Sussex Modern Stories | 5 minutes read
Wine People: Julie, Mark and Hannah, Artelium Vineyard
For Julie Bretland, there is a magic to each season on the Artelium estate she founded with husband Mark Collins. "Spotting those first sprouts in the Spring after a long winter, those first buds, and then Summer when the sun is shining, leaves are growing and the grapes are coming into their own – it's just fabulous." Now on the cusp of autumn on their main site in Streat, a tiny village hamlet between Plumpton and Ditchling, it is harvest, "which is always so exciting" Julie enthuses.
Words: Zoë Cook
Photography: Ed Schofield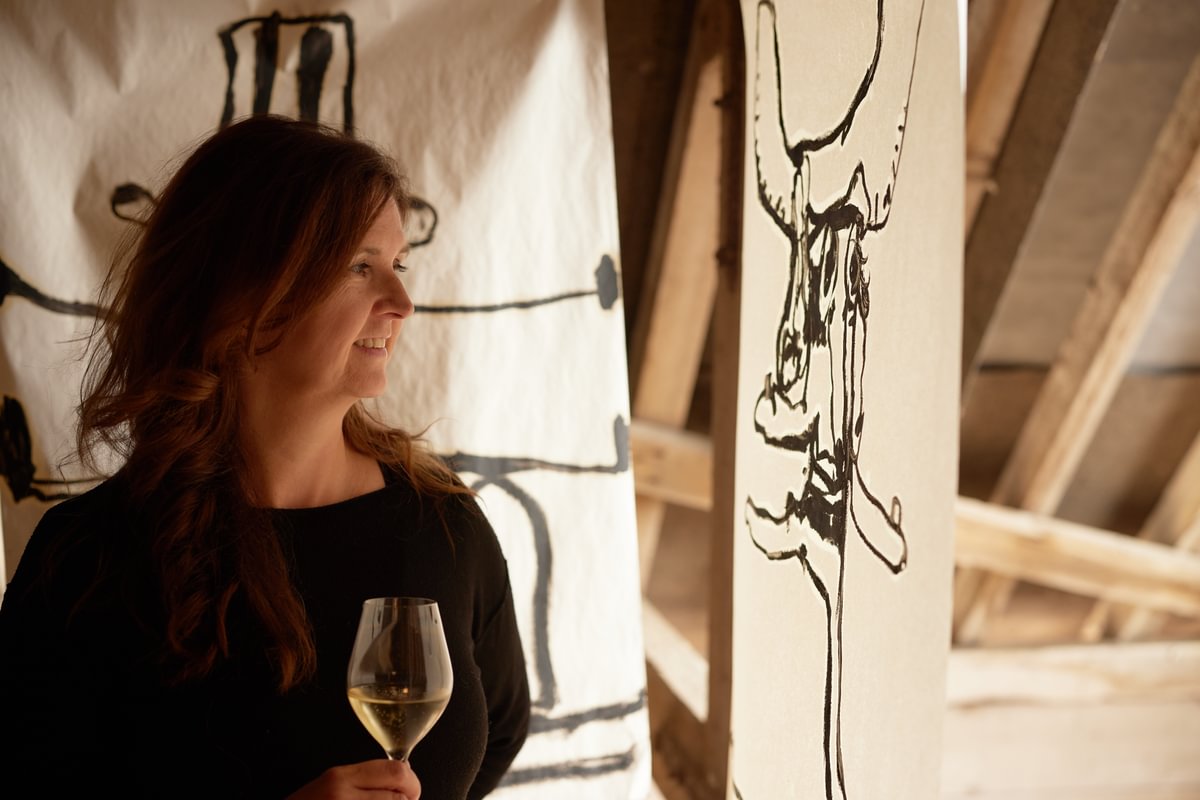 Julie and Mark had always shared an interest in wine, and a love of visiting vineyards on holiday. When planning the menu for their wedding they decided to serve only English wine, and as their knowledge deepened, they began to see potential to turn their passion into a lifestyle. The couple scoured the South Coast, and it was Sussex that captured their hearts – "I'm from Sussex originally," Julie explains, "so I already knew what a beautiful county it was."
The vision quickly grew, from considering planting a small vineyard to reasoning that they might as well do it on a scale where they could send their grapes to a winery rather than pressing at home. They began talking to Owen Elias, who had made a large proportion of their wedding wines, and then had the opportunity to work with sparkling winemaker Dermot Sugrue. "We jumped at the chance," Julie says, "we initially bought grapes in from a small vineyard in Hampshire whilst we planted our own vineyard in 2018 and 2019".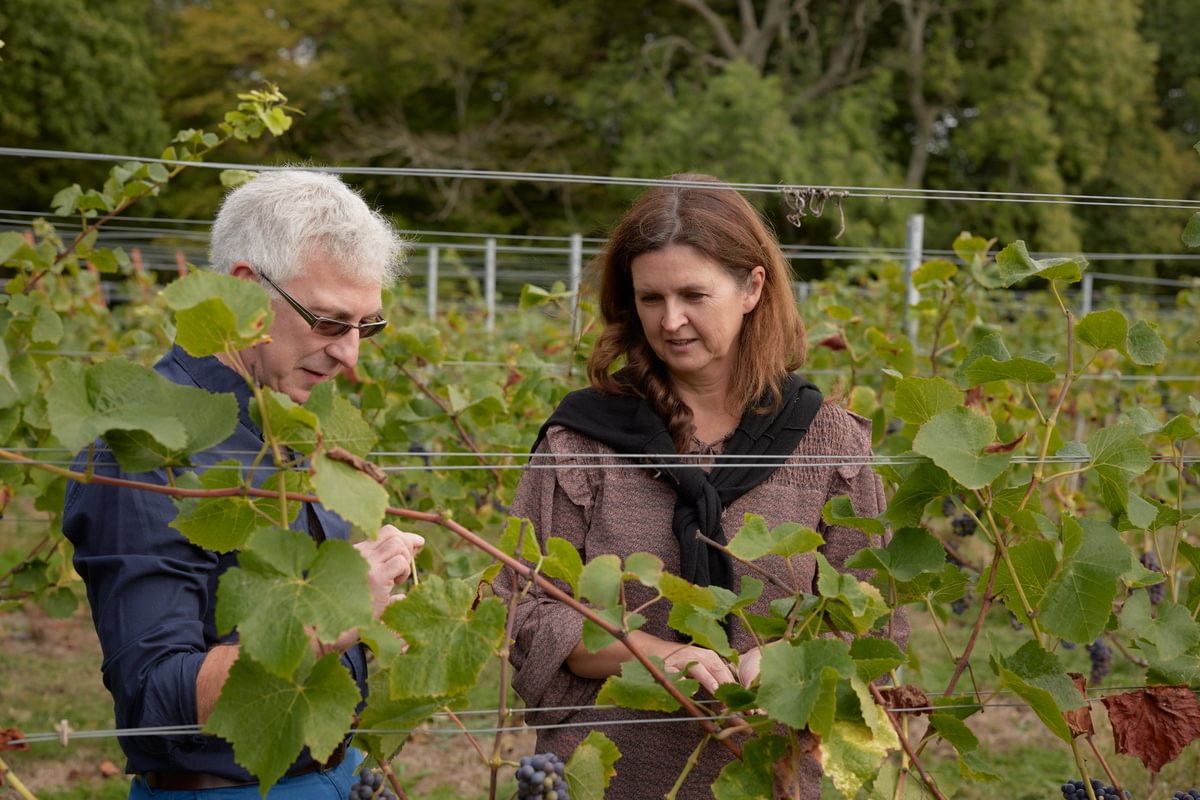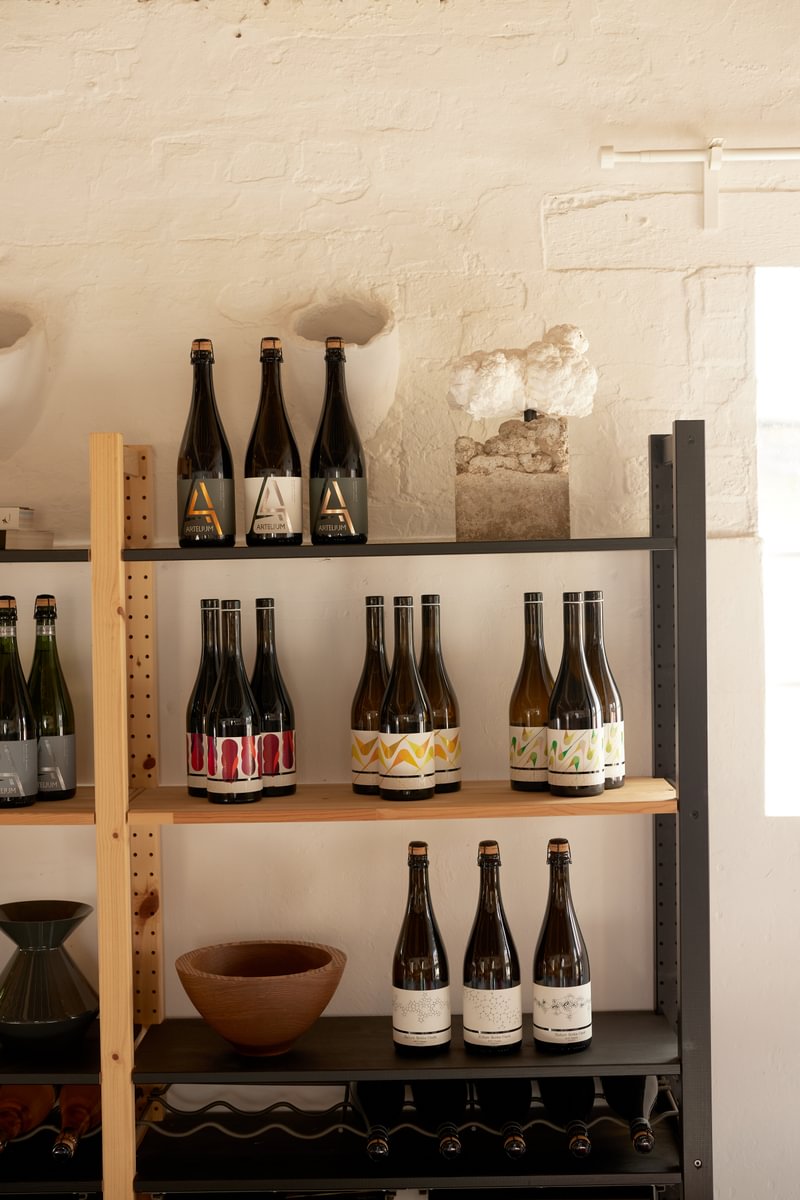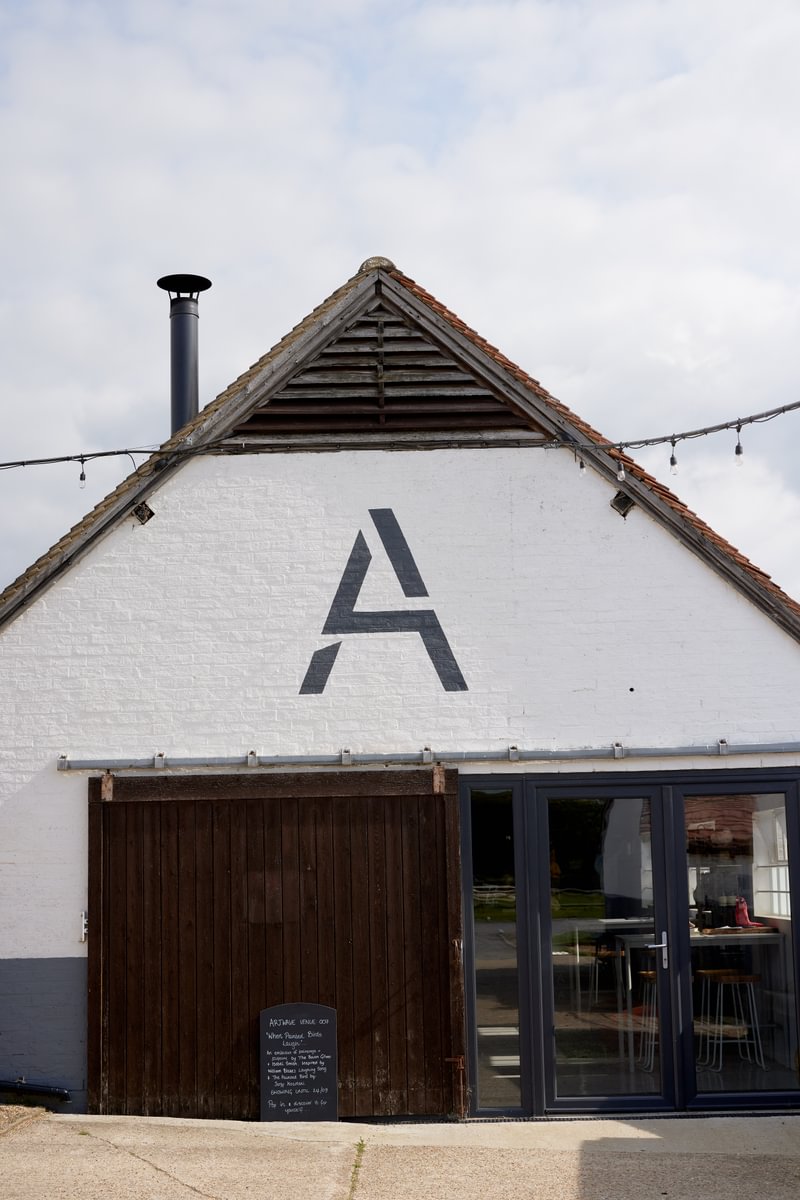 They named their estate Artelium – reflecting another passion, for art. They had at one point found themselves debating between planting a vineyard or creating a sculpture park. Today, their 45-acre estate is home to 20 acres of vines – Chardonnay, Pinot Noir, Meunier, and Pinot Gris – an airy tasting room, relaxed terrace, and they host regular art exhibitions.
This thoughtful blending of art and wine is rooted in Mark and Julie's strong sense of curatorship of their beautiful patch of Sussex countryside. "We always wanted to create somewhere that people could come and enjoy," Julie says, "we wanted to make it an attractive, welcoming place where people would gather to socialise, to discuss, to relax".
The creation of their tasting room was an important step in realising this ambition. Hannah Simpson-Banks joined as Hospitality Manager after five years at Ridgeview, and quickly became an integral part of the Artelium family. "The moment that I knew I had to join Artelium came as I was walking through the vineyard with Mark – there were large areas of the vineyard that had been left unplanted, breaks in the rows and generous headlands," Hannah remembers, "Mark explained that these sections were left when they planted the vineyards to allow space for events, dinners amongst the vines and a sculpture trail. That they had thought so far in advance, as to how visitors might engage with the space and how events and tourism would contribute to their business made me think 'this is a journey I want to be part of'".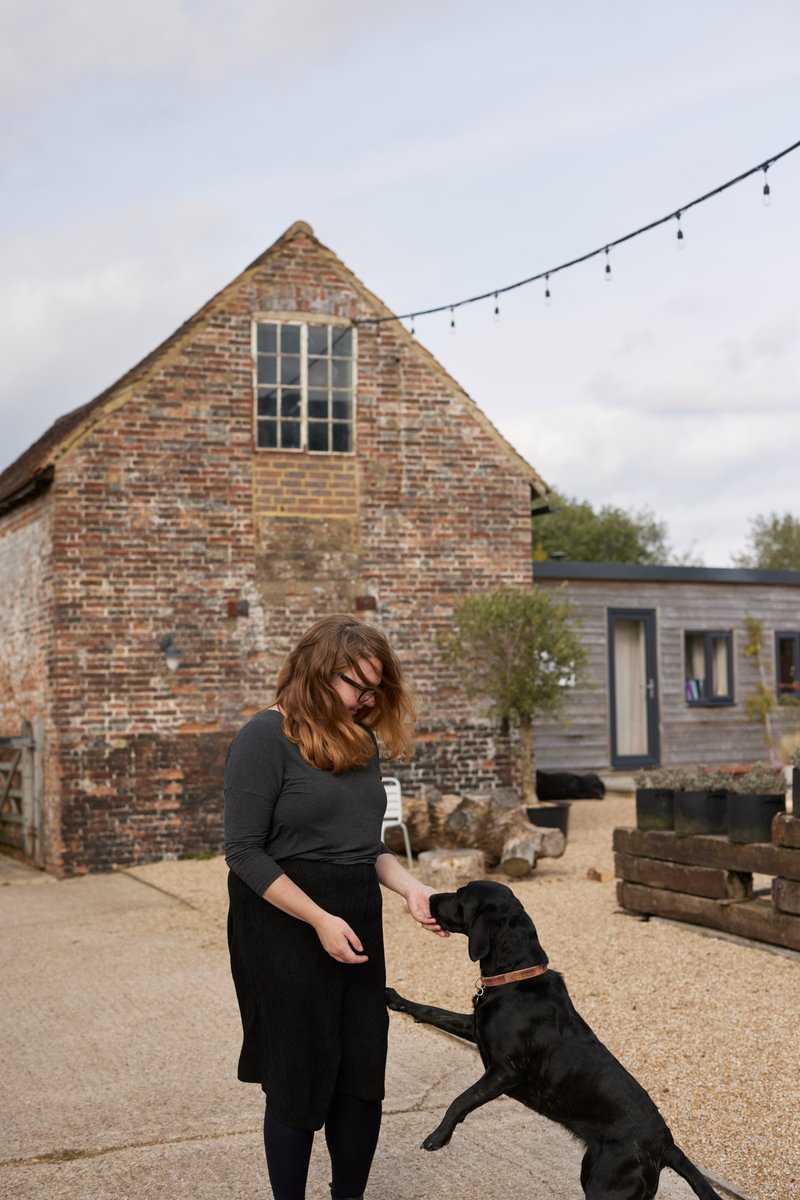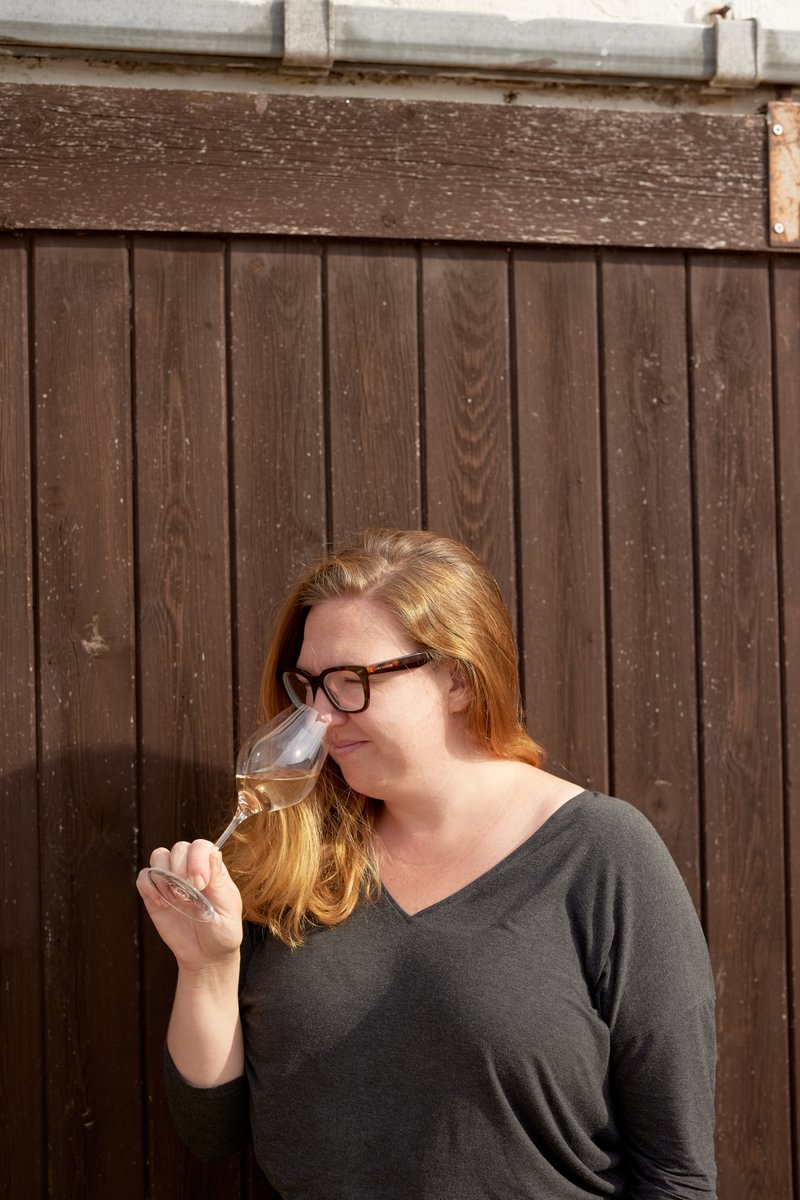 "We launched at a time when interest in low food miles, eating local produce, the notion of low intervention and being good to the environment, was growing," Julie says. But the pandemic also provided a surprising boost to their visitor numbers, as people who would have usually travelled to France, Italy and America, found themselves unable to fly and visiting English wine regions instead.
"We are found both by people who are interested in wine and looking for good wine, but also by people who are literally just wandering past", Julie explains. "People come because we have space for kids and dogs, tables to seat 10, they come simply because they were walking through the bluebells and saw our sign; or they come for the wine and for the art." Whatever leads people to Artelium, the team is committed to welcoming them into their relaxed, informal, unstuffy space. "We are happy to talk to winemakers about the intricacies of our wines," Hannah says, "but we also love chatting to people who had no idea English wine even existed until they came here."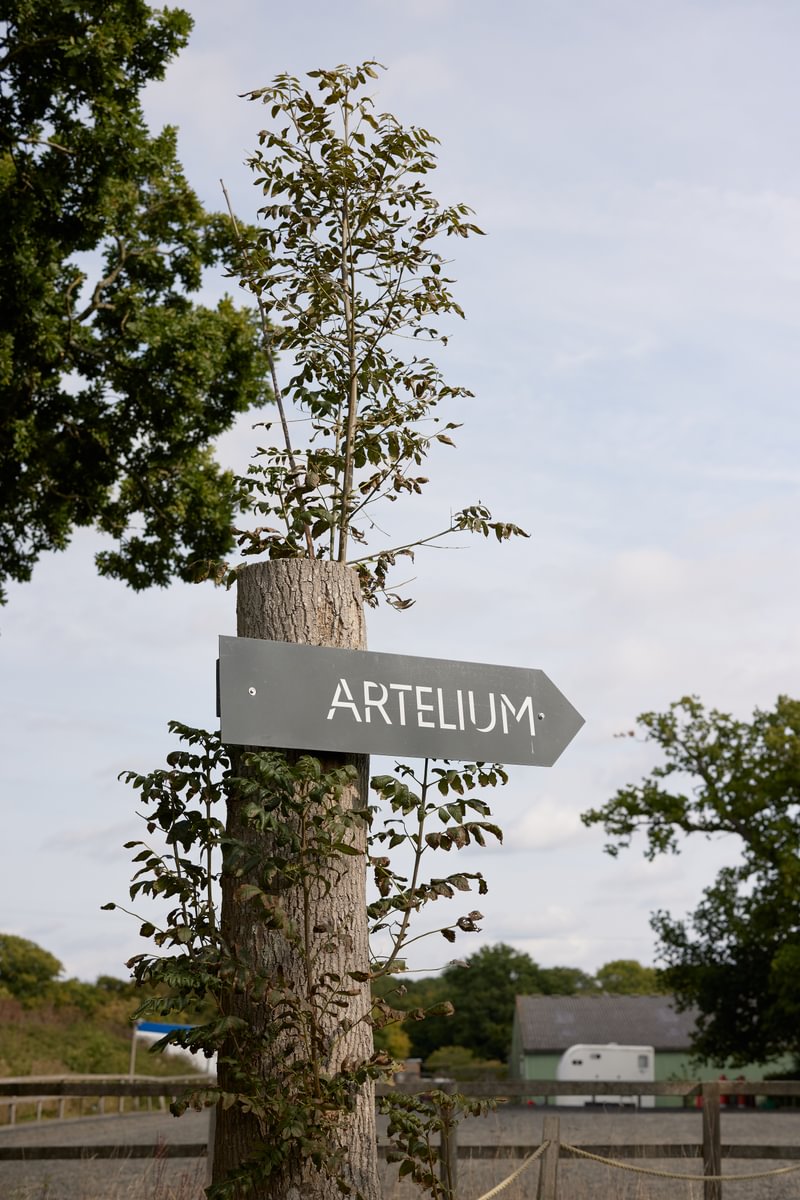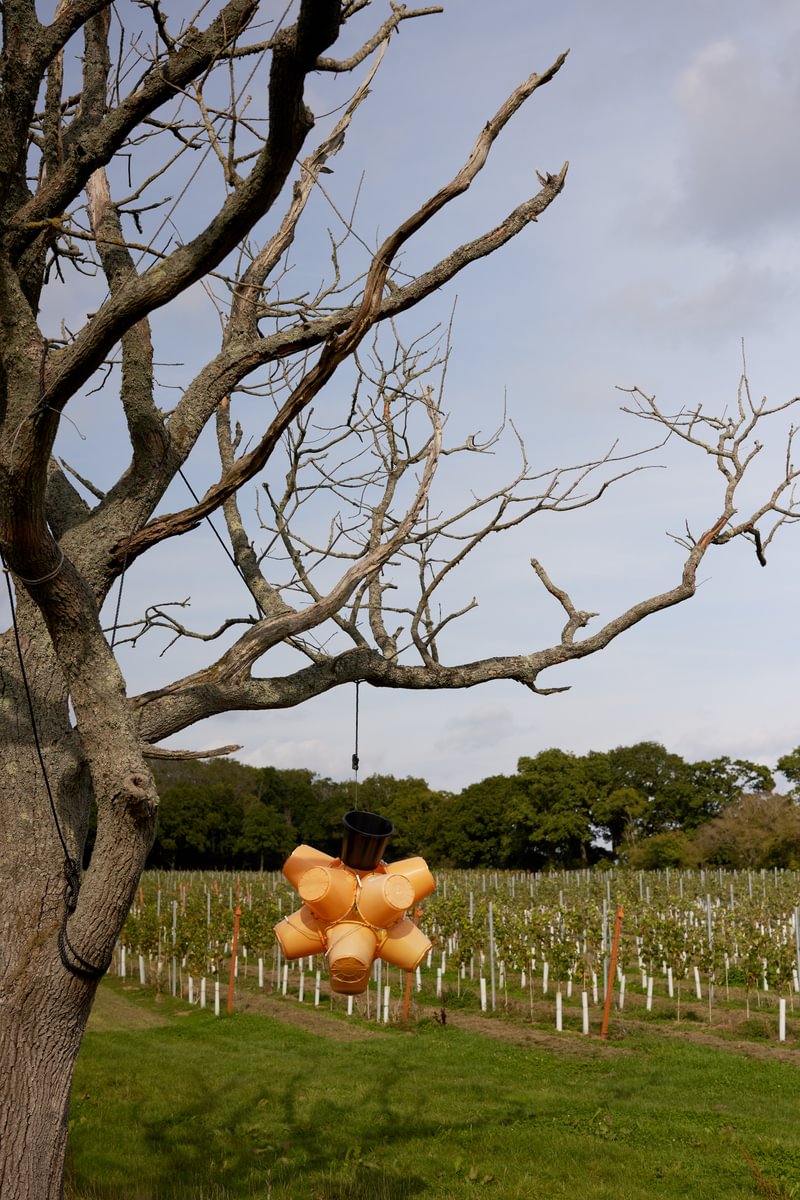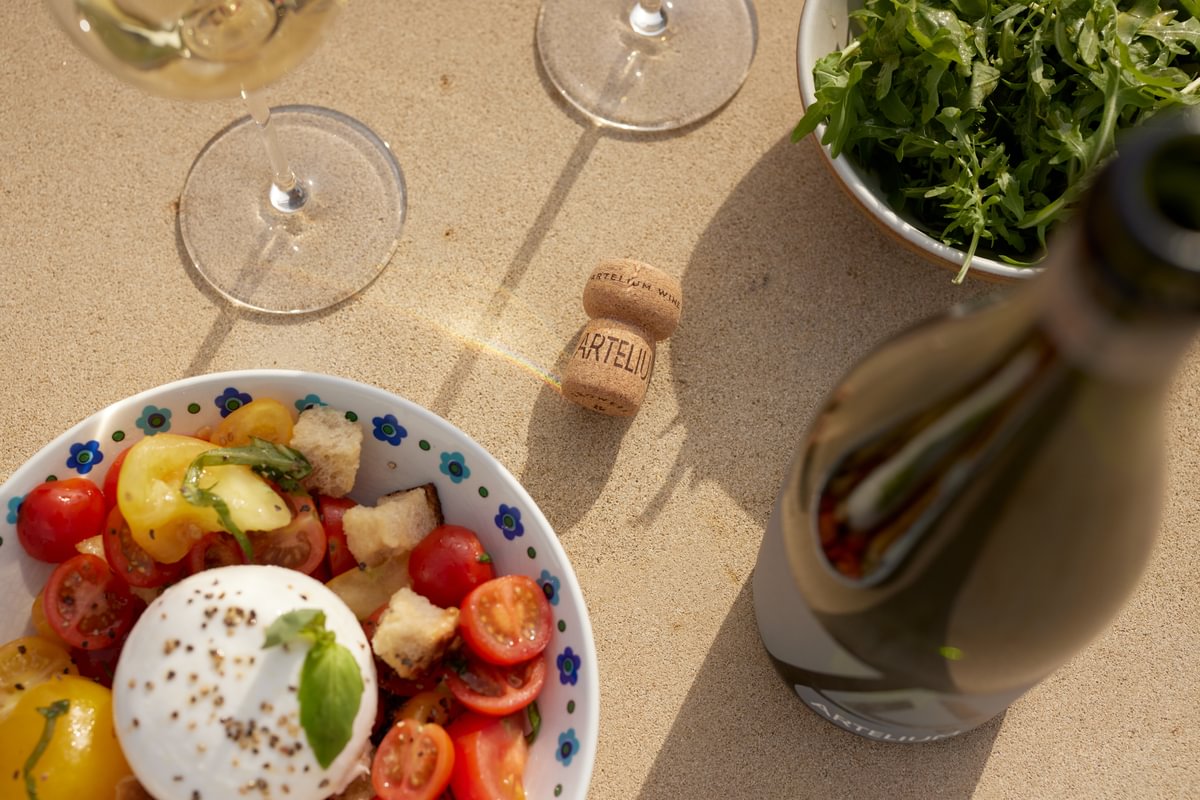 "It is the best thing we ever did – and it has evolved so quickly," Julie says of opening the estate to the public. "The atmosphere here is just so wonderful, and our customers are so lovely. There is nothing better than seeing people unwind here at the end of the week." Hannah agrees, "there is this big, full-body sigh people do when they sit in the tasting room or on the terrace with a glass of wine looking out at the countryside views. It's just the highest praise for what we offer here."
High praise has also come in the form of abundant critical acclaim. Artelium has made a striking impression on the English wine scene and Julie and Hannah are overwhelmed by their success at the 2022 Wine GB Awards. Their Artelium Blanc De Blancs won both Best Blanc de Blancs and Best Sparkling, the team were awarded Best Newcomer, and ultimately named Supreme Champions. It's a clear reflection of their firm focus on producing seriously great wine. "It's lovely to have that recognition of all the hard work that goes into making our wines," Hannah says. "We wrap all this other stuff around it, but ultimately, at Artelium, it's about making outstanding wines."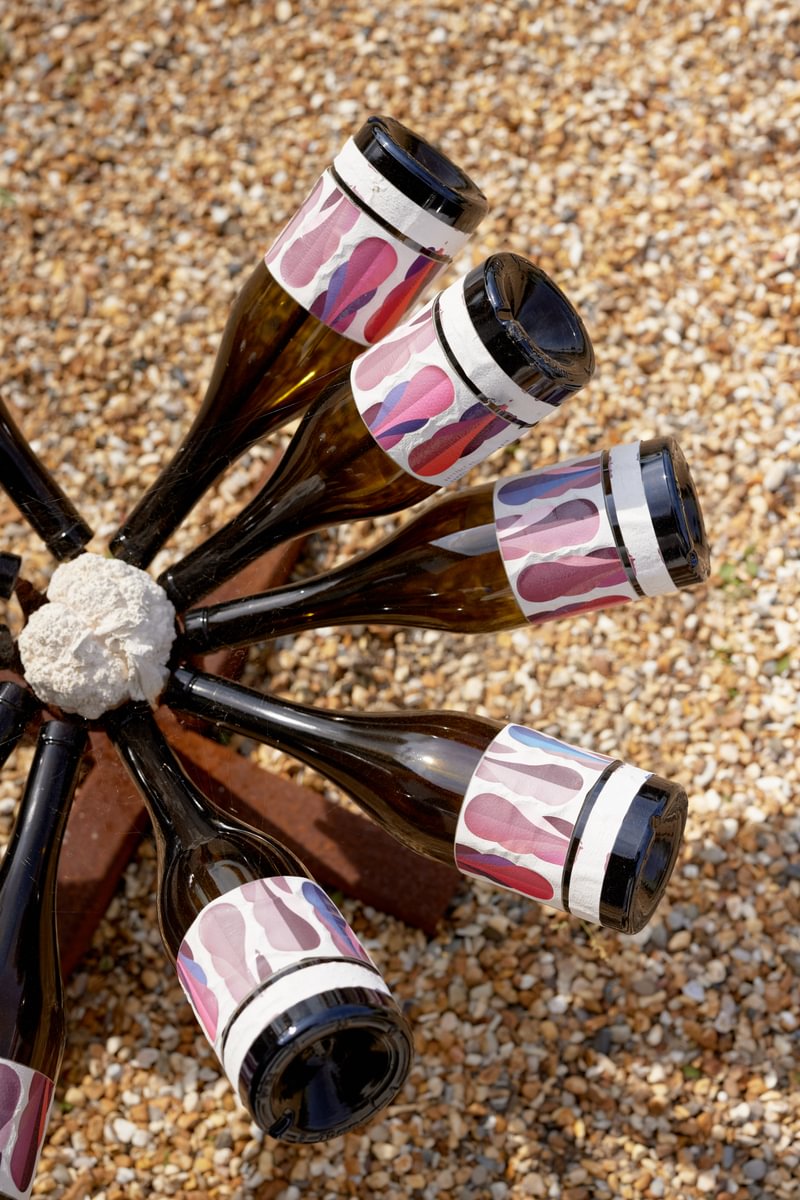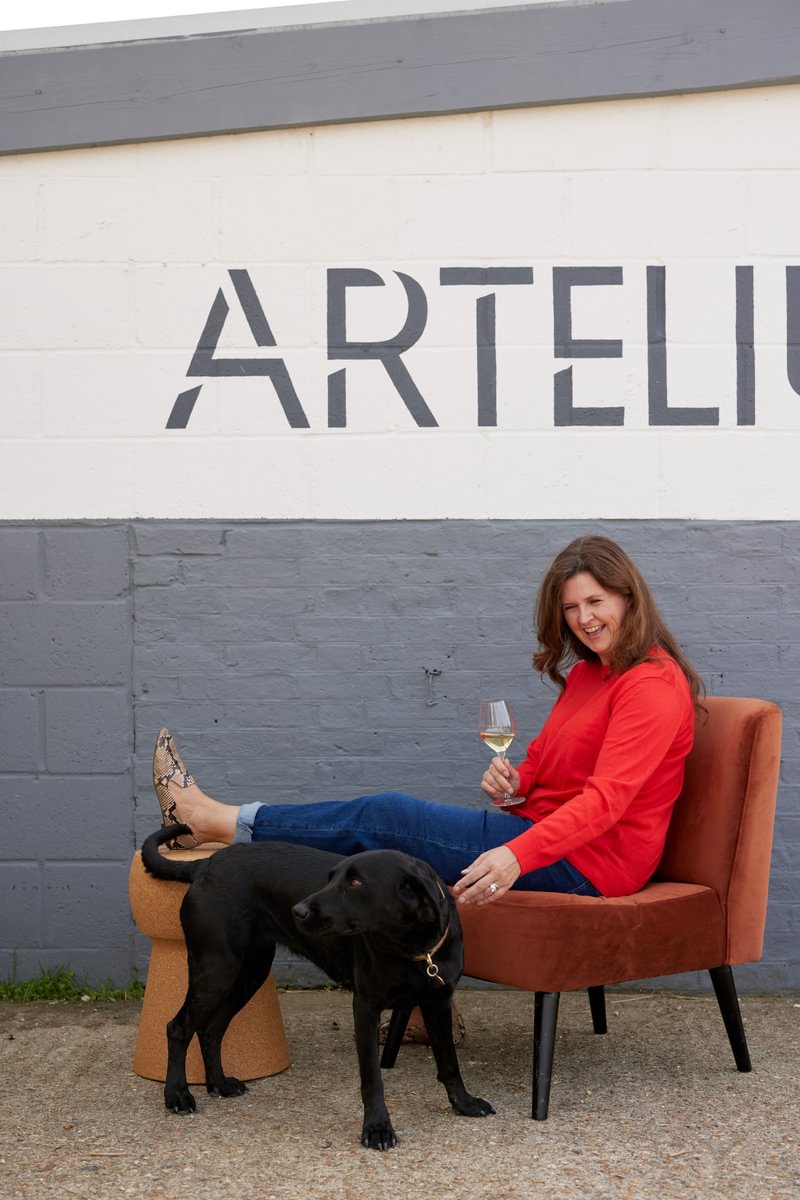 It's a mission that the team clearly delights in, and there are ambitious plans to grow the art offering at Artelium, to bring the winery in-house, to expand their wine-making capabilities and to continue to nurture their still-young vineyards. Artelium is a testament to team's profound love of, and dedication to, English wine and to the winemaking community.
"I feel I've found my tribe," Julie says, "being part of this group of people who all love wine. There is so much diversity, so much life experience – with people coming to wine as a second, third or fourth career. There are all these different backgrounds, but the shared love is wine."