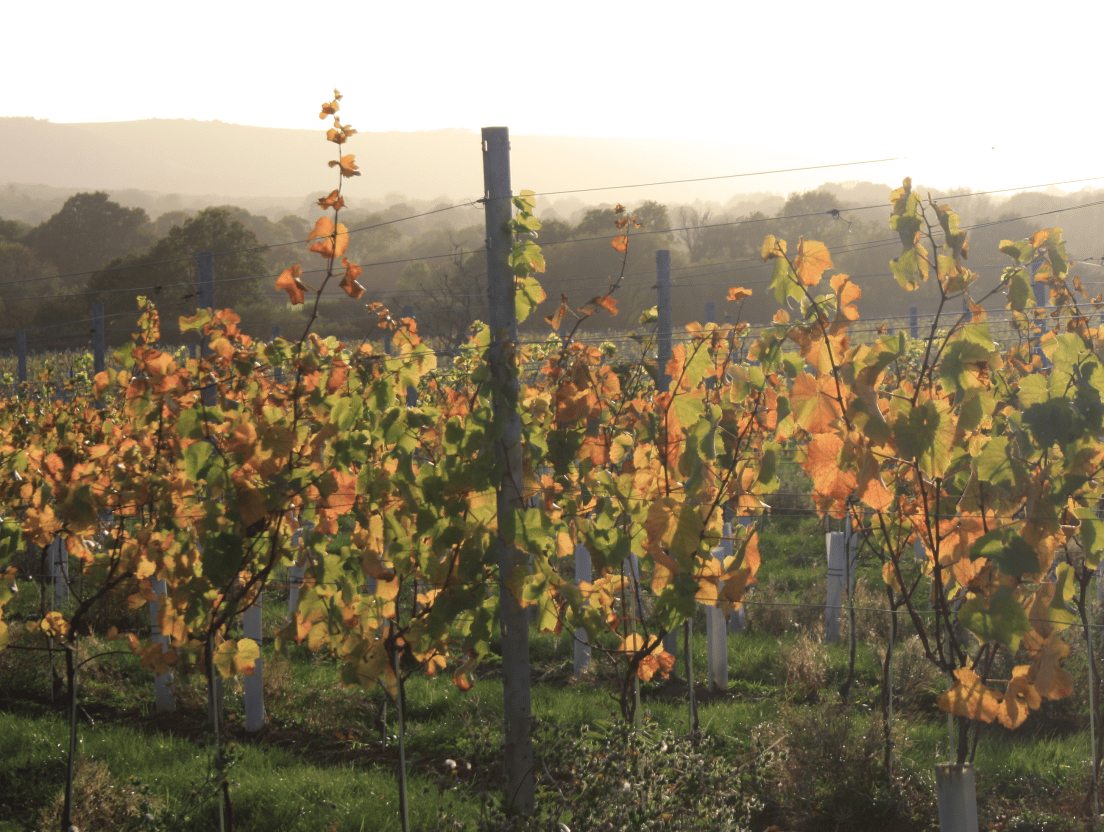 When to Visit a Sussex Vineyard
Sussex Modern Stories | 5 minutes read
It's fascinating to visit a Sussex vineyard at any time of year. The work on wine estates never stops, and no matter whether you visit in the depths of winter or the height of summer, there'll always be something going on.
Spring
The vines start to wake up from their winter slumber during April. The buds begin to swell, and burst into tiny fluffy leaves. Once these first buds have appeared, the vines are at their most vulnerable to frost, and temperatures in the vineyard are anxiously monitored. If the temperature falls below zero, candles are lit at night to protect the fragile buds from frost damage.
Spring is a beautiful time to visit a Sussex vineyard for a tour, tasting, or simply a walk between the vines, which are starting to show some colour after their twiggy winter. In some vineyards 'cover crops' start to spring up between the vines, creating a colourful carpet of wildflowers. Wine producers often release their new wines in spring too, so it's a great time to go tasting.

Summer
Grapevines, like all fruits, produce flowers, and each tiny flower will turn into a grape. In June, vineyards start 'bud-rubbing' – literally rubbing down the vines to remove unwanted shoots from lower down on the trunk and focusing the vine's energy upwards, helping them to flower. By late June, a tiny white flower unfurls at each position where a grape will eventually be, and if that flower is successfully pollinated it will become a berry. Warm and dry conditions will help the fruit to grow evenly.
About 10-14 days after full bloom, fruit set should be well established and the pollinated flowers have begun to form small green berries that will eventually grow into individual grapes. At this time vineyard managers can begin to estimate the percentage of each grape cluster that will grow into fruit. While unexpected weather like late frosts or heatwaves can still affect the season, fruit set is the first indicator of how abundant (or not) the coming harvest may be.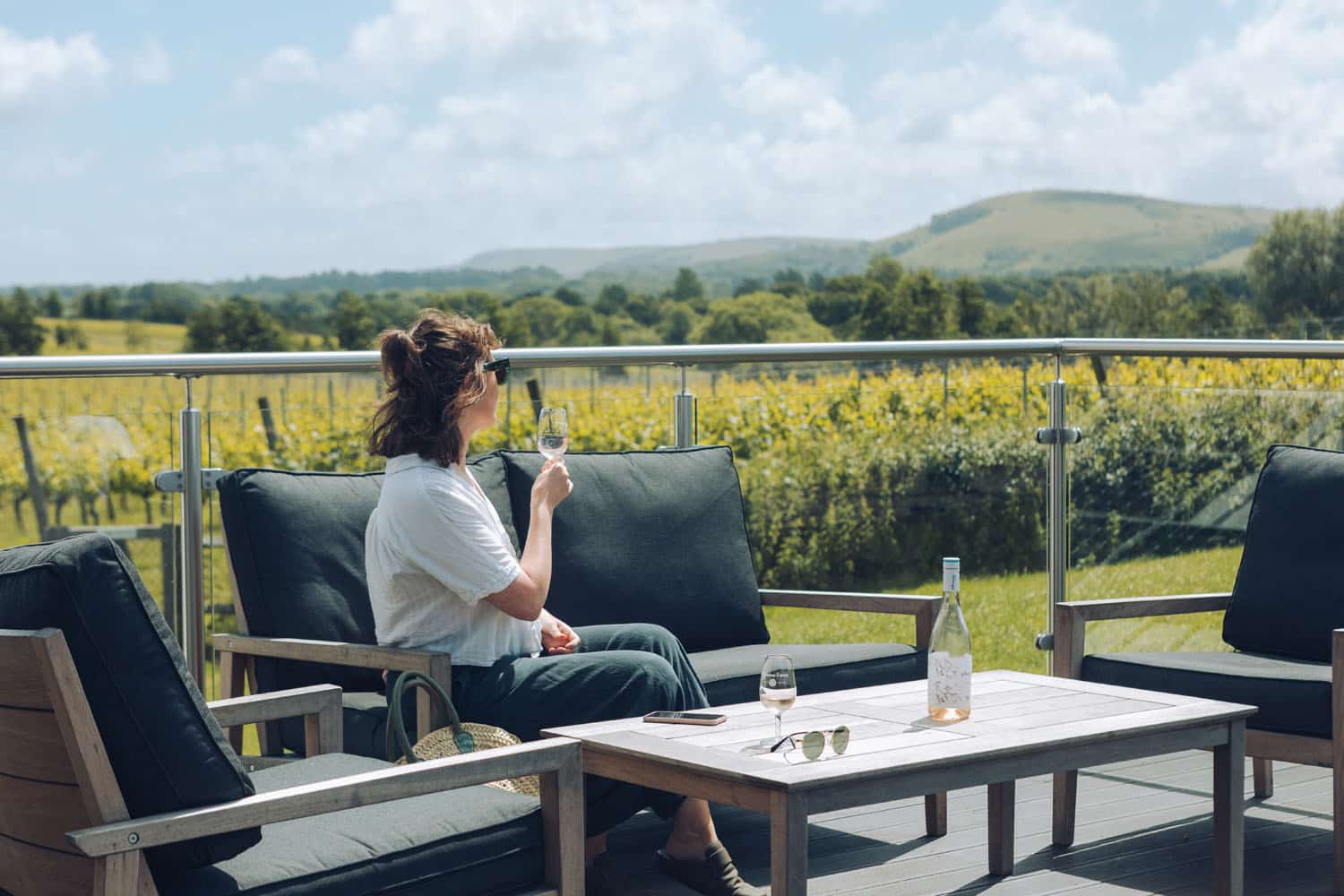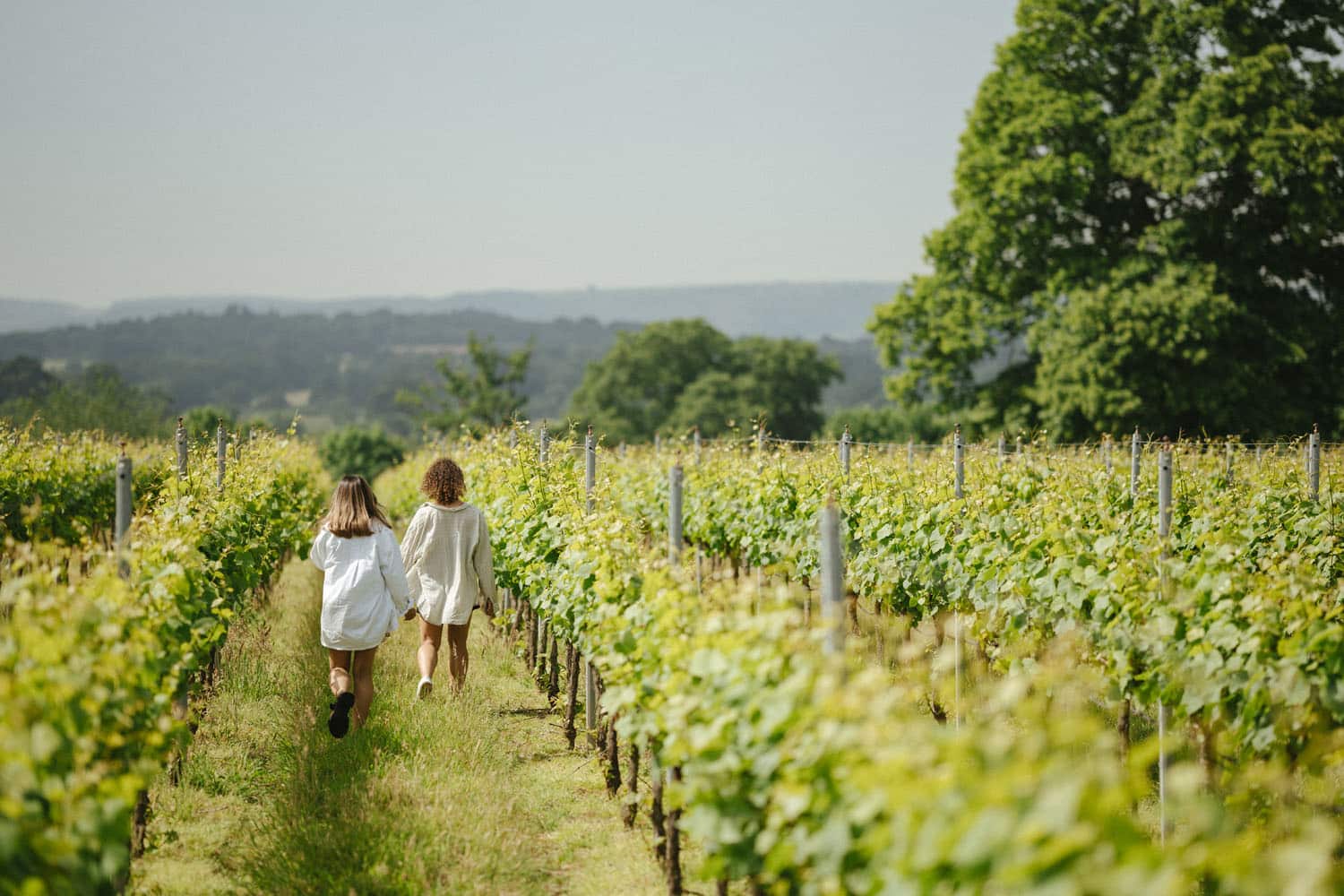 Summer is a beautiful time to visit Sussex's vineyards. The vines are green and vibrant, the weather is (usually) wonderful, and a chilled glass of English sparkling never tastes better than on a warm summer's day. Many vineyards offer outdoor dining options like picnic hampers, allowing you to enjoy lunch amongst the vines. And some vineyards, like Tillingham, Oxney, Ashling Park and Oastbrook offer on-site glamping options like bell tents, lodges and shepherd's huts.
In late summer⁠—usually August⁠—the grapes begin to ripen. This exciting process, known as veraison, is when the grapes begin to change colour and the vines focus all their energy into making sweet fruit with increasing levels of sugar. The countdown to harvest can begin.

Autumn
September is all about carefully monitoring the sugar and acid levels in the grapes, to make sure they're harvested at the perfect time. Harvest normally takes place in late September and early October across Sussex – though this can vary from vineyard to vineyard and year to year, depending on that year's weather conditions, and the grape varieties.
Harvest is the most exhilarating time of the year to be in a vineyard. For producers it's all-action and breakneck-busy. Dates must be calculated, equipment prepared, timings coordinated and workforces galvanised to bring the year's precious grapes into the winery at the peak point of ripeness.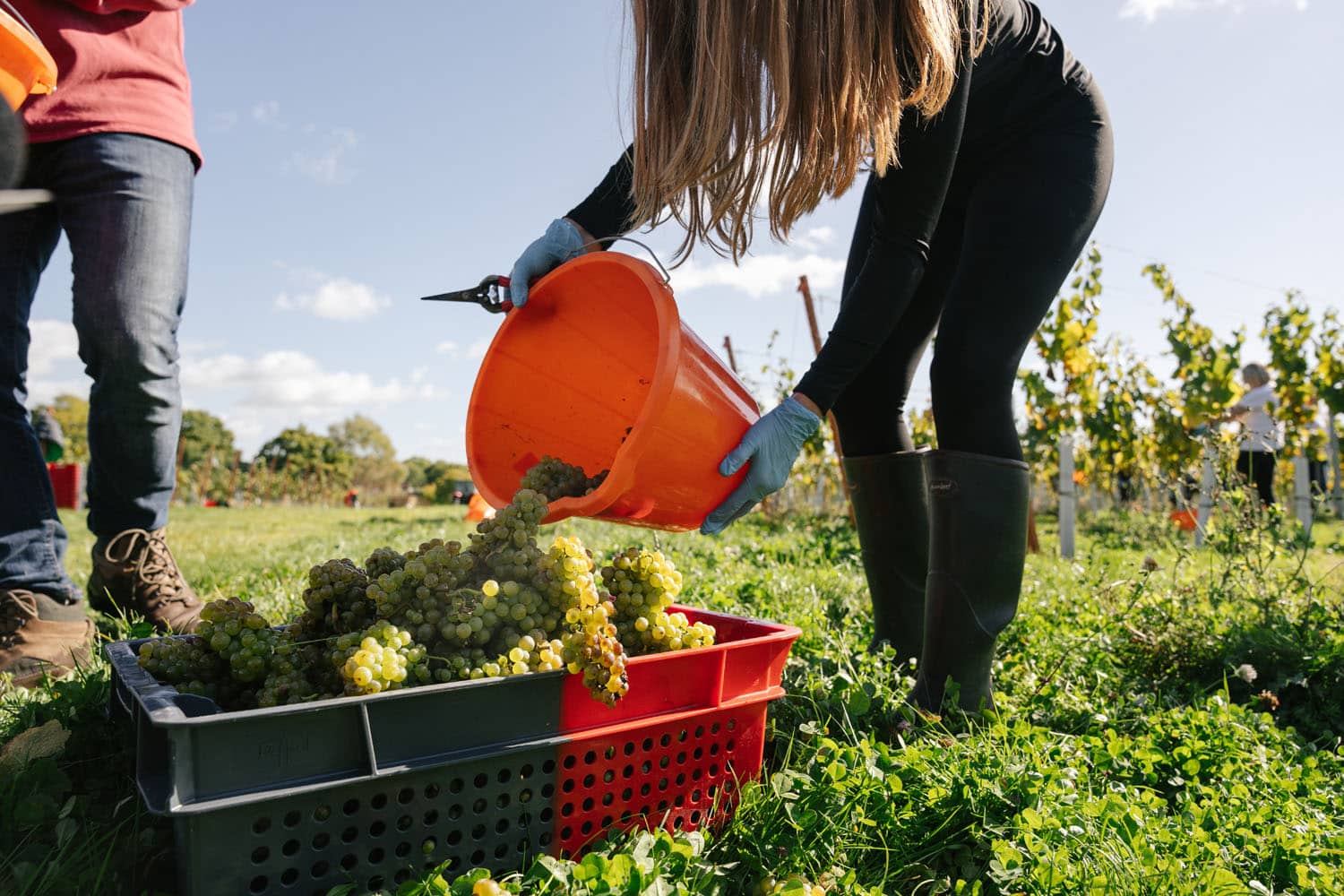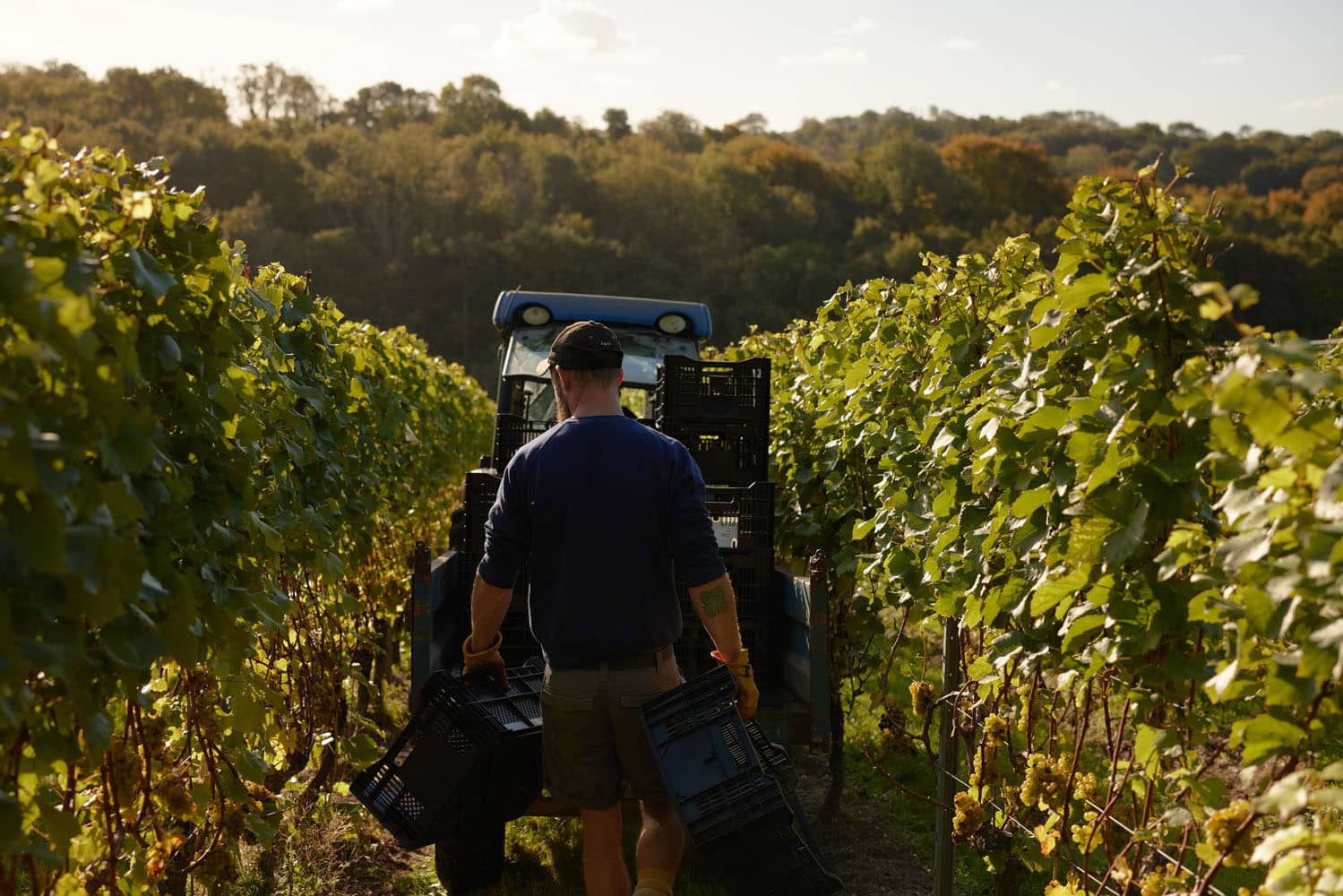 For visitors, it's the time to see this abundance of activity up close – and increasingly take part yourself. With every passing year more and more English wineries are offering dedicated harvest experiences – where you can take part in the picking, enjoy a sense of camaraderie and some wonderful lunches and wine.
Once the grapes are picked, they are taken straight into the winery where they are pressed, ready to be turned into wine.
Winter
After the harvest, the leaves on the vines will change to gold and red, before falling. The sap retreats to the trunk and roots, and the vines become dormant. Over winter they're pruned by hand to keep them in shape and regulate their yields.